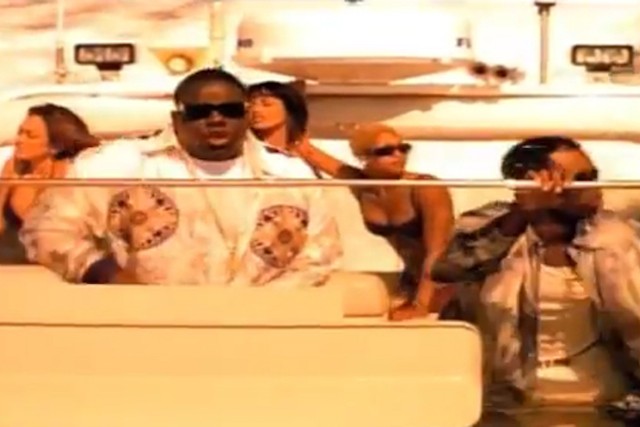 The Notorious B.I.G. introduced the world to the grandeur of his double album Life After Death with the lead single "Hypnotize," released on the first day of March 1997. The song became one of Biggie's most popular tracks not just because of his mastery of mellifluous rhyming, but also because of the Paul Hunter-directed video. Centered around a Big Poppa removed from Ready to Die's Bed-Stuy grit and now indulging mafioso excess, the high-octane, big budget visuals of "Hypnotize" were a step into the glitzy aesthetic Bad Boy Records trademarked at the close of the millennium. Of course, Biggie wouldn't live to see the style's ubiquity nor the release of Life After Death, a triumphant-turned-tragic piece of the hip-hop canon that still stings 20 years later.
The video was a bittersweet achievement for Hunter as well. It was filmed in February 1997 and released at the end of March, just weeks after Biggie was killed. A few days before Life After Death's 20th anniversary, the acclaimed director spoke to SPIN about his experiences shooting "Hypnotize."
I met Biggie through Puff. We did "Can't Nobody Hold Me Down" and Biggie came on and did a cameo. We did a short scene in the opener before the video started and Biggie was a part of that. We met on set there and stayed cool with each other. There was a lot of talk because Biggie was really hot and he had [Life After Death] coming out—there was a lot of people who wanted to direct it. I remember hearing names like Michael Bay and there were a lot of people that they were talking to. I just was relentless on wanting to work with him. I loved the track.
I don't know if [Bay] was actually gonna go for it or what the situation was. I just remember Diddy going "Man, you better be on top of your game. 'Cause I've got all kinds of people wanting to shoot this video, there's Michael Bay…blah, blah, blah, blah."
The whole thing was that we wanted to show this buddy comedy and really bring out the friendship and the personalities of Biggie and Puff together. They were like a dynamic duo, and it was really just…
Hypnotize (The Notorious B.I.G. song)
Life After Death
Music PY
Paul Hunter (director)
The Notorious B.I.G.
Comments