AFC North
12/13/2016 by PeekYou Team
Author: Conor Orr / Source: NFL.com
With the Ravens (7-6) firmly in second place in the AFC North, coach John Harbaugh knows the scenario from here on out: just win.
"Yes, absolutely, we know where we stand and the situation we are in. And that we basically have to win three games, you know, and (we're) certainly fully capable of doing that," he told reporters following last night's 30-23 loss to the Patriots in New England. "That's what we intend to do, but all the focus goes to the next game. That's what I told the guys in the locker room, pack up the buses as quick as we can, get back to Baltimore and get to work on Philadelphia."
Because the NFL is wonderful at scheduling pesky late-season games for perennially good…
AFC North
Baltimore Ravens
John Harbaugh
sports
Comments
11/25/2016 by PeekYou Team
Author: Tyler Conway / Source: Bleacher Report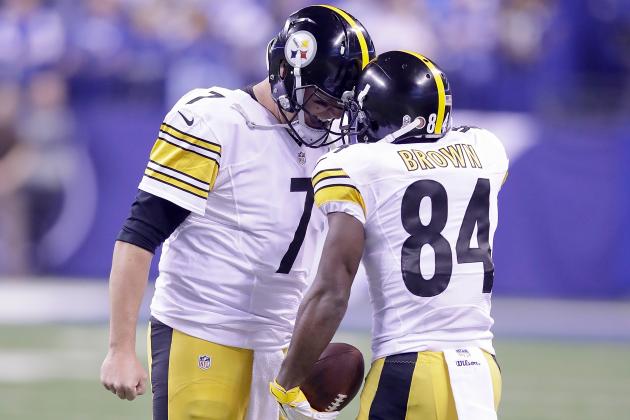 With Andrew Luck out with a concussion, the Indianapolis Colts were given a firsthand look at how much their Pro Bowl quarterback means to them.
It turns out Luck means a whole heck of a lot.
Ben Roethlisberger threw three touchdown passes to Antonio Brown, and Le'Veon Bell rushed for 120 yards as the Pittsburgh Steelers took first place in the AFC North with a 28-7 win over the Indianapolis Colts on Thursday.
The Steelers have a half-game lead over the Baltimore Ravens, who host the Cincinnati Bengals on Sunday. They've now won two straight games since a four-game losing streak that put their playoff hopes in jeopardy.
Roethlisberger and the passing attack accounted for 221 of Pittsburgh's 369 yards, spearheading drives that opened up a two-touchdown lead in the first quarter from which the Colts did not recover. The Steelers quarterback completed 14 of his 20 passes, with their game plan making a clear decision to send passes down the field.
Brown led the team with 91 yards on his five receptions. This is Brown's third multi-touchdown game of the season and 12th of his career. It's the first time he has ever scored three times in a game. Gordon McGuinness of Pro Football Focus made an astute observation about the former sixth-round pick:
Antonio Brown is basically the Tom Brady of WR draft wise, and we probably dont acknowledge that enough

— Gordon McGuinness (@PFF_Gordon) November 25, 2016
Bill Barnwell of ESPN.com also provided a handy list of guys taken ahead of Brown:
A list of the wideouts taken in the 2010 draft before Antonio Brown: pic.twitter.com/O76zGnxOWC

— Bill Barnwell (@billbarnwell) November 25, 2016
The Colts also had little chance of…
AFC North
Andrew Luck
Antonio Brown
Ben Roethlisberger
Indianapolis Colts
Le'Veon Bell
Pittsburgh Steelers
Pro Bowl
sports
Touchdown
twitter
Comments