Steelers vs. Colts: Score, Twitter Reaction for 2016 Thanksgiving Day Football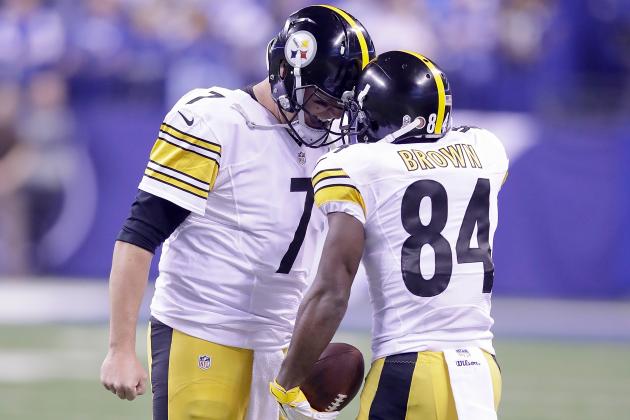 With Andrew Luck out with a concussion, the Indianapolis Colts were given a firsthand look at how much their Pro Bowl quarterback means to them.
It turns out Luck means a whole heck of a lot.
Ben Roethlisberger threw three touchdown passes to Antonio Brown, and Le'Veon Bell rushed for 120 yards as the Pittsburgh Steelers took first place in the AFC North with a 28-7 win over the Indianapolis Colts on Thursday.
The Steelers have a half-game lead over the Baltimore Ravens, who host the Cincinnati Bengals on Sunday. They've now won two straight games since a four-game losing streak that put their playoff hopes in jeopardy.
Roethlisberger and the passing attack accounted for 221 of Pittsburgh's 369 yards, spearheading drives that opened up a two-touchdown lead in the first quarter from which the Colts did not recover. The Steelers quarterback completed 14 of his 20 passes, with their game plan making a clear decision to send passes down the field.
Brown led the team with 91 yards on his five receptions. This is Brown's third multi-touchdown game of the season and 12th of his career. It's the first time he has ever scored three times in a game. Gordon McGuinness of Pro Football Focus made an astute observation about the former sixth-round pick:
Antonio Brown is basically the Tom Brady of WR draft wise, and we probably dont acknowledge that enough

— Gordon McGuinness (@PFF_Gordon) November 25, 2016
Bill Barnwell of ESPN.com also provided a handy list of guys taken ahead of Brown:
A list of the wideouts taken in the 2010 draft before Antonio Brown: pic.twitter.com/O76zGnxOWC

— Bill Barnwell (@billbarnwell) November 25, 2016
The Colts also had little chance of…
AFC North
Andrew Luck
Antonio Brown
Ben Roethlisberger
Indianapolis Colts
Le'Veon Bell
Pittsburgh Steelers
Pro Bowl
sports
Touchdown
twitter