NFL mock draft 2018: First round's post-combine fallout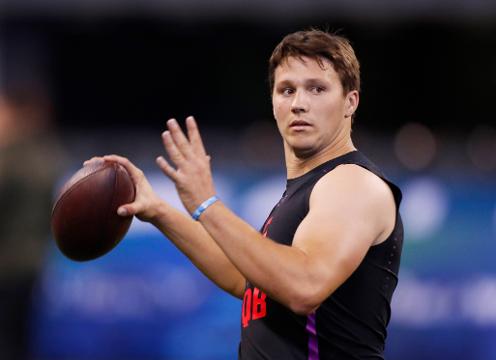 USA TODAY Sports' Lorenzo Reyes, Lindsay H. Jones and Mike Jones break down what they saw at the NFL Combine. USA TODAY Sports
INDIANAPOLIS — The scouting combine is supposed to provide one final, level playing field — theoretically — for NFL draft prospects to compete while being evaluated by all 32 teams. But Saquon Barkley, whom we pegged as the top pick in our mock draft a month ago, proved to be a man among boys during his workout at Lucas Oil Stadium and somehow managed to elevate his lofty stock. Asked if the Giants should take the Penn State star with the second overall selection, NFL Network draft analyst Mike Mayock replied, "Saquon Barkley — if he's there at two — is the most obvious choice in the draft. He's special. He's different. He's all those things."
And based on what we saw and heard during the combine, we think Barkley may wind up atop a lot more mock drafts — and, just maybe, the actual one.
1. Browns — Saquon Barkley, RB, Penn State: Some draft observers suggested his combine performance might have been the most impressive ever. The NFL Research Twitter account provided this context for the 6-foot, 233-pounder when comparing his numbers against those posted by recent all-pros in Indianapolis: Stronger than Joe Thomas, quicker than DeSean Jackson, faster than Devin Hester, jumps higher than Julio Jones. As crucial as quarterbacks are, how do you pass on talent like this, especially when you also own the fourth overall pick? Barkley's persona also suggests he will have little trouble assuming the mantle of "face of the franchise," and he embraces the challenge of turning around a franchise like Cleveland's. He should be every bit as good as recent first-round backs (Todd Gurley, Ezekiel Elliott, Leonard Fournette), and placing Barkley in a backfield that's about to lose leading rusher Isaiah Crowell to free agency alongside a rookie quarterback — remember what Elliott did for Dak Prescott in 2016 — could be the optimum way to ease a young passer's transition. Take this to the bank: Cleveland will only get one crack at Barkley, and this is it.
2. Giants — Sam Darnold, QB, Southern California: He didn't throw at the combine, which could make him a perfect candidate for the Giants, who probably wouldn't need him to throw a regular-season pass in 2018, either. New GM Dave Gettleman would probably love to get a shot at Barkley and will probably be tempted to add Notre Dame G Quenton Nelson, one of his beloved "hog mollies," to what may be the league's worst offensive line. But at the end of the day, it's rare for the Giants to be in position to draft a franchise passer — they haven't had a top-five selection since they wound up with Eli Manning in 2004. Though Manning, 37, may have another year or two in his tank, this is too good an opportunity to enact a bona fide succession plan, especially considering Darnold's estimable upside and a low-key demeanor (like Manning's) that would probably work well in The Big Apple.
3. Colts — Bradley Chubb, DE, North Carolina State: With all signs pointing toward Andrew Luck's return, they're one of the few teams at the top of a quarterback-rich draft that doesn't appear to actually need one. GM Chris Ballard will almost certainly be fielding calls from teams like the Cardinals and Bills for what could be a very coveted spot. But Ballard also badly needs to reload a supporting cast — Barkley and Nelson would be ideal fits — that had too often let Luck down in recent years. Chubb looks like the pre-eminent pass rusher in a draft that seems deficient at this highly coveted position. And if Luck can revert to form and start putting points on the scoreboard, a guy like Chubb — remember how Dwight Freeney and Robert Mathis did this back in the day for Peyton Manning — is the type of defensive game changer who can protect leads.
4. Browns (from Texans) — Josh Allen, QB, Wyoming: Good luck finding better arm talent, and Allen put his hose on display to the world with a 70-yard hook-up during Saturday's passing drills. Now arm strength isn't necessarily a good indicator of success in the pros — just ask JaMarcus Russell — where decision making and accuracy are far more valuable attributes. However a big arm does count for something in Cleveland's windy, lake-side atmosphere (not to mention tough conditions that arise in every other AFC North city), and new GM John Dorsey is the guy who traded up to get Patrick Mahomes' howitzer for the Chiefs a year ago. Allen drew positive reviews in Indy, and his workout may have started to ease concerns about his 56% completion rate in Laramie, where he ran a pro-style offense but didn't benefit from a ton of checkdown throws and was victimized by more than his share of drops.
5. Broncos — Josh Rosen, QB, UCLA: Few teams appear as poised to win immediately as Denver, home to a championship-caliber defense and a pair of Pro Bowl wideouts — if GM John Elway can solve the quarterback dilemma that has existed since Peyton Manning retired two years ago. Rosen is widely viewed as the most NFL-ready passer coming out and seemed to allay some fears at the combine that his personality won't mesh in a pro locker room, though a veteran-laden one like Denver's might be a plus for a 21-year-old assimilating into the working world. Rosen's football arrogance and belief he can make any throw — think former Broncos QB Jay Cutler — may be the bigger issue for him to work on at the next level.
6. Jets — Baker Mayfield, QB, Oklahoma: This might be a good spot to pause and acknowledge that the Kirk Cousins sweepstakes — the Jets, Broncos and Browns are all expected to be serious suitors — could greatly influence the top of the board, as free agency generally will shape the draft once veterans can begin switching teams March 14. But…
Devin Hester
Isaiah Crowell
Julio Jones
Lindsay H. Jones
Mike Mayock
Mock draft
National Football League
Nuclear fallout
Peyton Manning
Saquon Barkley