Latest NBA trade rumors: Lakers targeting Paul George; Pelicans not dealing Holiday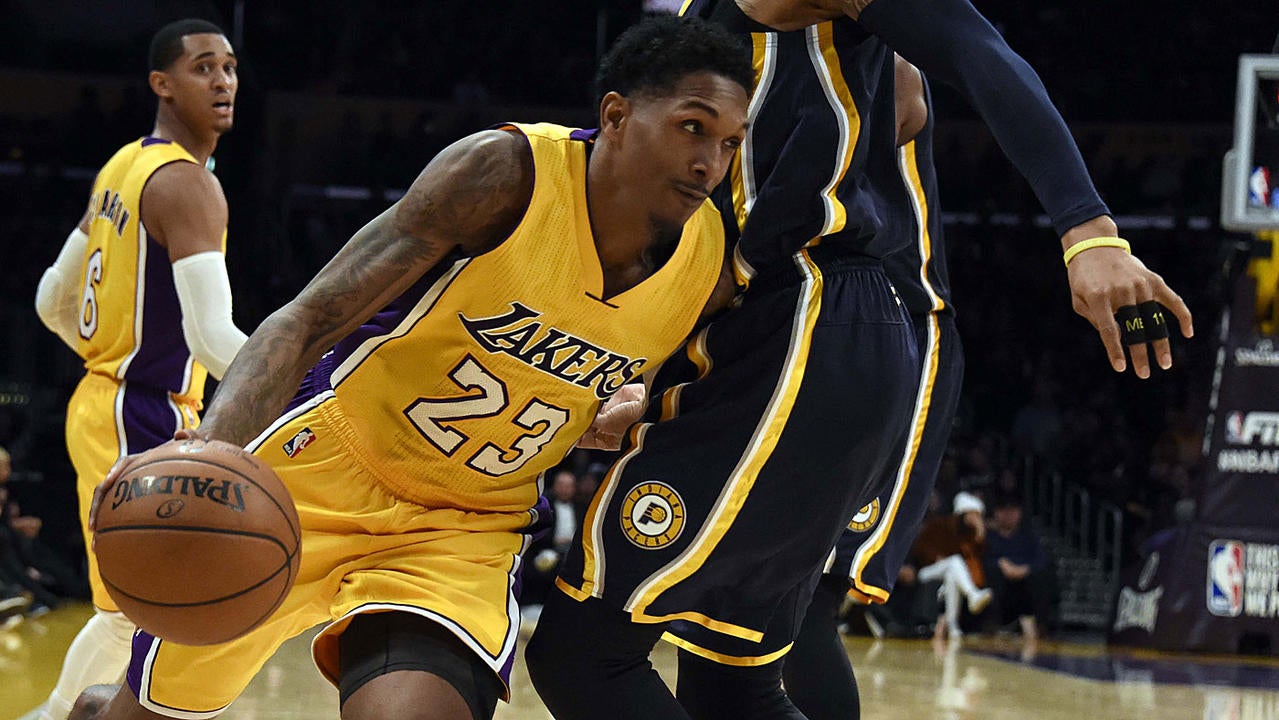 Report: Lakers trade Lou Williams to Rockets for Corey Brewer, first-round pick
Our NBA trade buzz tracker will keep you updated on all the latest rumors, whispers and reported discussions as the Feb. 23 deadline approaches. Here's the latest:
The Los Angeles Lakers are "in the process of trying to land" Indiana Pacers star forward Paul George, according to USA Today's Sam Amick, who also reported that the "landscape is complicated elsewhere, too, in large part because of his desire to sign with the Lakers if the Pacers experience simply doesn't pan out."
If you're wearing a Kobe Bryant jersey right now and jumping up and down, there's more, via The Vertical's Adrian Wojnarowski:
For teams considering a trade for George, here's the risk: As a free agent in the summer of 2018, he has considered re-signing with Indiana or joining his hometown Los Angeles Lakers, sources tell The Vertical.

Teams trading for George run the risk of losing the four-time All-Star to a Lakers franchise that will have the salary-cap space to sign him in 2018. The Lakers' hiring of Magic Johnson as president of basketball operations will be an interesting twist to George's free-agent recruitment, given that Johnson has been something of a George family icon going back to George's childhood in nearby Palmdale, Calif.
We'll see what the future holds for Paul George, but as of now it appears him leaving Indiana before the deadline is a very real possibility.
With the trade deadline coming up Thursday at 3 p.m ET, the Indiana Pacers apparently have not decided whether they are buyers or sellers. The Pacers front office is simultaneously looking at ways to improve their roster in hopes of convincing Paul George to re-sign and testing the trade market for George , who will likely be a free agent in the summer of 2018, per The Vertical's Adrian Wojnarowski.
Maybe Indiana will make a blockbuster move before the deadline. If it doesn't, that doesn't mean this storyline is going away. The Pacers could decide to try to get George some help now — they've been linked to Philadelphia 76ers big man Jahlil Okafor in recent days, which is confusing — and then reevaluate this situation at the end of the season. If George stays and Indiana stays mediocre, expect to hear more rumors around draft night.
Boston Celtics president Danny Ainge wants to nab Chicago Bulls star Jimmy Butler before Thursday's trade deadline, and the "main sticking point" is not which draft pick (or picks) are included in the deal, but whether or not forward Jae Crowder will be involved, according to TNT's David Aldridge, via CelticsHub's Brian Robb.
"I think the Jimmy Butler stuff is real," Aldridge said on NBA TV. "They have been trying to get Jimmy Butler. [Ainge] doesn't want to give up Jae Crowder. That's the main sticking point there and he doesn't want to give up Jae Crowder in a deal and that's the guy the Bulls are insisting on right now in any package for Butler.

"The picks will work themselves out. Boston has about 600 first-round picks in the next five years, so they'll make it work. That part I'm not worried about. I think it really comes down to Crowder. In terms of real, tangible players, I think Danny would like to go into the playoffs with Smart, Bradley, Crowder defensively along with Butler, Horford, Thomas offensively. I think he feels like that's he only way they'll be able to compete with a team like Cleveland.

"Chicago, I think rightly, is saying, 'If you want our best player, we're not going to just do it for picks. We're not going to take guys you aren't going to keep on your roster. We want a guy that is going to be able to grow with us, along with one of those high picks.' They want a top half of the lottery type of pick for Jimmy Butler, along with a starting established player under contract. I understand that from Chicago's point of view."
More surely to develop. Stay posted.
If it wasn't abundantly clear already, Paul Millsap is not going anywhere. Atlanta Hawks general manager Wes Wilcox told The Vertical's Adrian Wojnarowski that, not only is the All-Star forward definitely not going to be traded before Thursday's deadline, Millsap will be the front office's top priority when it comes to free agency this summer. In January, Atlanta explored the possibility of trading him, but decided against it after testing the market.
"Paul Millsap is not going to be traded, and Paul Millsap is absolutely our priority this offseason, in re-signing him with the Atlanta Hawks," Wilcox said. "We've communicated that to Paul, his team, and we feel great about our position there. We also don't want to hide from the fact that, yeah, we took a long, hard look at it earlier in the season, during a period of time where our team was struggling, and ultimately decided that Paul is far too valuable to us. And through that period of time and that excerise, we made that decision to absolutely keep Paul. and he is certainly our priority."
New Orleans Pelicans guard Jrue Holiday will be a free agent this summer, and, relatively recently , it looked like the front office had to figure out whether to trade him before Thursday's 3 p.m. ET deadline. Now that the Pelicans have DeMarcus Cousins, though, it appears that is no longer under consideration , via ESPN's Justin Verrier:
The concern was that, with New Orleans failing to build a contender around Anthony Davis, Holiday could choose to sign somewhere that would give him a better chance of winning. This would obviously be a huge setback for the Pelicans, who need Davis and Holiday on the court to be competitive. With Cousins on board, Holiday has much more incentive to stay, as long as the front office is willing to offer a significant raise.
Maybe you can go home again. Deron Williams has been a popular trade target due to his veteran status and expiring $9 million contract. Now an interesting suitor has emerged: his former team, the Utah Jazz . From ESPN:
The Utah Jazz have expressed interest in reacquiring former All-Star guard Deron Williams via trade from the Dallas Mavericks, according to league sources.No deal appeared imminent Tuesday night, sources told ESPN.com, but Utah has registered its interest in bringing Williams back to his original team, with Dallas open to making both Williams and center Andrew Bogut available to other teams in advance of Thursday's 3 p.m. ET trade deadline.
The Jazz have needed guard help: Dante Exum has regressed and been struggling for some…
Free agent
Indiana Pacers
Jrue Holiday
Los Angeles Lakers
National Basketball Association
New Orleans Pelicans
Paul George
sports
Trade (sports)