From Walk-on to UNC's NCAA Tournament Hero: Luke Maye's Amazing Story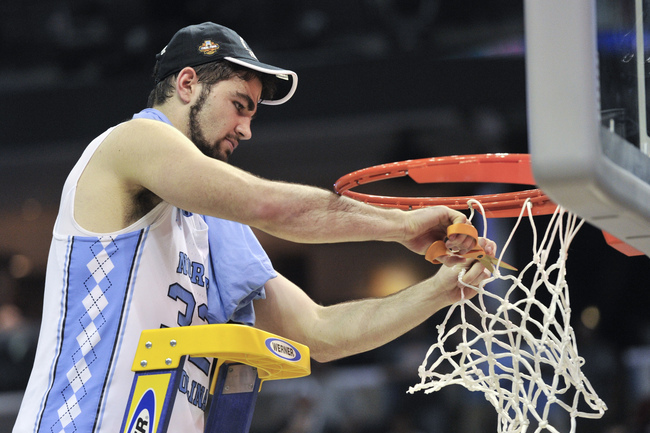 MEMPHIS — After he made the biggest and most unlikely shot of the NCAA tournament—after he propelled North Carolina into the Final Four with one graceful flick of the wrist—Luke Maye screamed, flexed his muscles and then bear-hugged teammate Joel Berry, lifting him off the FedEx Forum court.
"He was acting like a football player out there," Berry chuckled following the Tar Heels' 75-73 win over Kentucky, and it was fitting, because early in his life, that's what most folks assumed Luke Maye would be.
His father, Mark, played quarterback for the Tar Heels—he led the ACC in passing in 1986—and might have had an opportunity to compete in the NFL had injuries not halted his career. Broad-shouldered, thick and athletic, Luke's build seemed perfect for the gridiron, too.
That's why so many people in tiny Cornelius, North Carolina (population 27,000) were puzzled by his decision to focus on basketball at Hough High School. And they doubted Maye even more when he passed on scholarship offers from Clemson and Davidson to join the Tar Heels as an invited walk-on.
Multiple people suggested he wasn't good enough to play for such a prestigious program.
"They were saying I was undersized and that I wasn't going to be able to play here," Maye said. "I just wanted to prove those people wrong and show them that I can play here."
Maye smiled.
"I think I proved it tonight."
Did he ever.
The most anticipated game of the NCAA tournament seemed destined for overtime after Kentucky's Malik Monk forced a tie at 73 on a three-pointer with 7.2 seconds remaining. But before Wildcats coach John Calipari could call timeout to set his defense, North Carolina inbounded the ball to Theo Pinson, who raced up the court and into the lane before pitching the ball to Maye alone on the left wing.
A 6'8″ 235-pound sophomore who entered the postseason averaging five points per game, Maye set his feet and and, using perfect form, hoisted an 18-footer that tickled the bottom of the net with 0.3 seconds remaining. The shot proved to be the game-winner, as Kentucky didn't have time to attempt another field goal.
"When I saw it fall through," Berry said, "all I could do was put my hands up in the sky and say, 'Thank you.' He won the game for us."
And not just because of the final shot.
Two nights after scoring a career-high 16…
Final Four
Gospel of Luke
North Carolina Tar Heels men's basketball
sports
Three-point field goal
Walk-on (sports)