Don't be fooled: The Cavs' defense hasn't improved, and that spells doom against Golden State
The Cleveland Cavaliers are in control of their Eastern Conference finals matchup with the Boston Celtics, as they have a 3-1 lead, but that control doesn't stack up with the level of dominance the Cavs were exuding a week ago.
In Games 1 and 2 of the series, Cleveland blitzed Boston, winning both games in Massachusets by an average margin of 28.5 points — a number that doesn't properly convey how dominant Cleveland was.
Last Friday, it was clear: The Cavs were on their way to a 12-0 playoff record and a third date with the Warriors in the NBA Finals.
The latter is going to happen — Cavs-Dubs III will tip off in Oakland on June 1, this Celtics' team isn't going to win the next three games — but that perfect record is, obviously, no more.
There are several reasons the Celtics were able to win Game 3 in Cleveland on Sunday night — the obvious one being that LeBron James had an off night — but the biggest one might be that Boston started moving the ball.
Without ball-dominant guard Isaiah Thomas on the court, the Celtics had no choice but to whip the ball around the court in order to score.
And in the process of moving the ball with a renewed enthusiasm, the Celtics exposed the truth of the Cavs' postseason: Cleveland's much-maligned defense hasn't improved, it's just faced poor teams.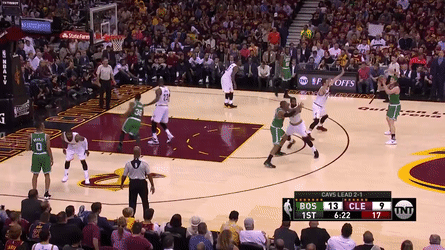 From the start of Game 3, for six-plus quarters, the Celtics' ball movement had the Cavaliers' defense spun.
Simple plays, like the one above, were adventures.
In the first half of Wednesday's Game 4, the Celtics missed a number of wide-open opportunities, created because of lazy, disorganized or downright bad Cleveland defense.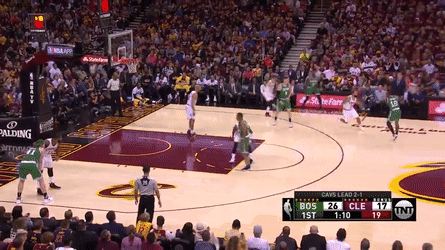 Over the last two games, the Celtics have averaged 45 open or wide-open shots — more than 52 percent of Boston's total shots.
The Cavaliers' defense made the starless, poor-shooting Celtics look like the NBA's preeminent floor-spacing team, the Rockets, who averaged 42 open (closest defender 4 to 6 feet away on release) or wide-open (defender 6 or more feet…
Boston Celtics
Cleveland Cavaliers
Eastern Conference (NBA)
Golden State Warriors
sports