Dominant, unselfish Vikings defense is Super Bowl ready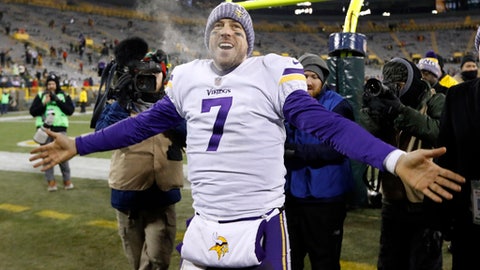 EDEN PRAIRIE, Minn. (AP) No team in the NFL this season allowed fewer points or yards than the Minnesota Vikings, putting them in better position than any of their competitors to prove that old "defense wins championships" adage to be true.
For the first time since the famed Purple People Eaters defensive line played in, and lost, four Super Bowls throughout the 1970s, the Vikings have a legitimate title contender with a dominant defense as the backbone.
"These last few weeks we've played really, really well. Defensively, we have a lot of good players. They understand this system and what their responsibility is, and they play very, very hard," coach Mike Zimmer said. "They've got this little edge on them right now that they don't want to give an inch."
Zimmer's assessment came after the 23-10 victory over Chicago in the final regular-season game, in which the only Bears touchdown came on a trick punt return. Chicago ran 11 plays from the 10-yard line or closer in the fourth quarter and failed to cross the goal line.
The week…
Associated Press
Dominant (music)
Eden Prairie
Mike Zimmer
Minnesota
super bowl
Vikings