Buccaneers vs Panthers: Five Game-Changing Players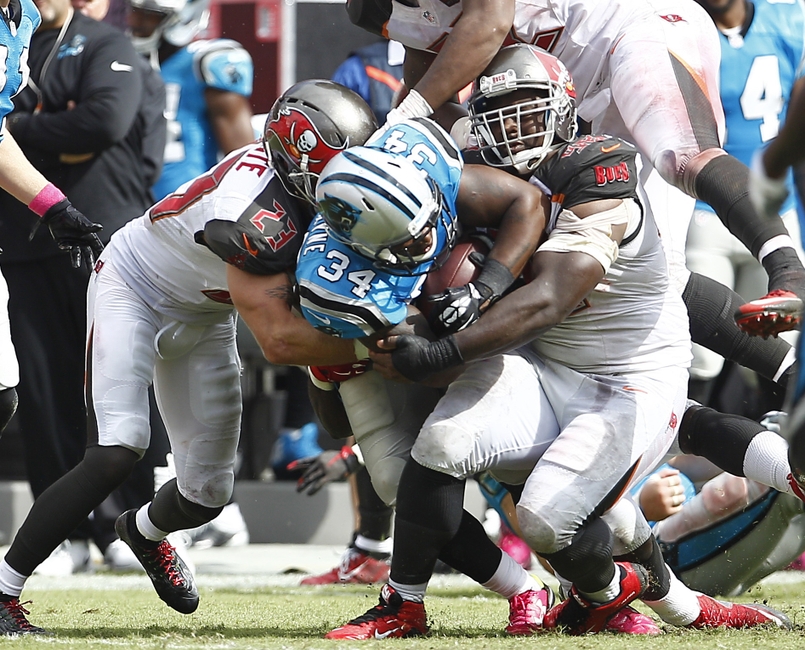 The Buccaneers (8-7) look to finish their season strong on New Year's Day with a victory against the division rival Panthers (6-9). Here, we break down five players that can change the outcome of Sunday's game.
The Buccaneers won five straight from November 13 to December 11 to firmly insert themselves into the NFC playoff picture. But, back-to-back losses took them out of it very quickly. They need about 9,000 things to go their way in week 17, and it's just not realistic to expect them to grab a playoff spot at this point. Either way, Tampa Bay will want to put a strong finish on its season this Sunday against the Panthers.
Last Saturday, the Bucs saw their postseason hopes taken away with a 31-24 loss to the Saints in New Orleans. Jameis Winston was off, getting intercepted twice, while the defense struggled. Drew Brees was solid, as was Mark Ingram. The Saints played spoiler to perfection, sending the Bucs into week 17 with little to play for.
The defending NFC champion Panthers saw their disappointing season continue on Christmas Eve as they were beaten 33-16 by the division champion Falcons. A year after going 15-1, Carolina will be sitting out the postseason. Cam Newton struggled last week, completing just 41.9 percent of his passes and getting picked off twice.
Both teams are eyeing strong finishes to the 2016 season this Sunday. Which five players can change the game?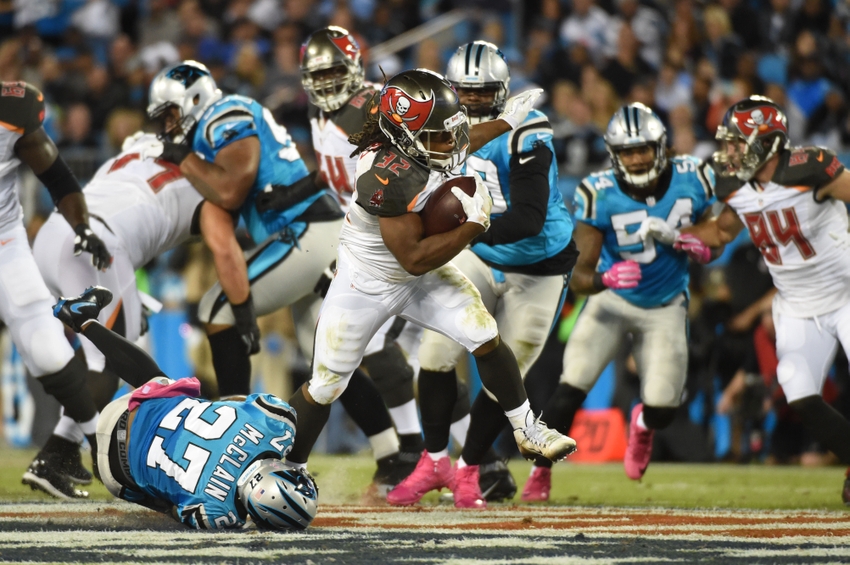 The Buccaneer backfield is a mess right now. Doug Martin was inactive last week, drawing a lot of question marks. What was first described as a "coaching decision" was revealed on Wednesday to be a four-game suspension for violation of the NFL's drug policy. On the same day, Charles Sims was once again placed on injured reserve. That means Jacquizz Rodgers will likely be the featured back in week 17.
Tampa Bay has had trouble with the run this year, while Carolina has had no trouble stopping it. The Panthers are among the top five run defenses in the NFL, despite the issues they had with stopping Rodgers back in October (101 yards on 30 carries). The Bucs will need to establish the run early on, but it won't be easy. If they can't find success with Rodgers, things will be much more difficult for quarterback Jameis Winston.
While Carolina is efficient in stopping the run, it still has allowed five 100-yard rushing games. Last week, the Falcons ran for 143 yards against Ron Rivera's defense. If Tampa Bay can open things up with the ground game, its offense will have a much better chance of lighting up the scoreboard on Sunday afternoon. That makes Rodgers a highly important player on Sunday. If he can come through with a big day, it'll lead to big things for the Bucs.
Has there been anything more frustrating over the last couple of years than watching the Bucs try to cover tight ends? One of the tight ends that has had the most success against Tampa Bay is veteran Greg Olsen. All the proof needed comes from the week five matchup between the Bucs and Panthers. Olsen hauled in nine catches on 13 targets for a career-high 181 yards. He averaged 20.1 yards per catch, tearing through the Tampa Bay defense.
Tampa Bay has been considerably better against tight ends since Olsen's career game earlier this season. The defense has only given up one 100-yard game to a tight end since, and that was to a top tight…
Carolina Panthers
Jameis Winston
National Football Conference
sports
Tackle (football move)
Tampa Bay Buccaneers