Agent's Take: Recent draft history shows first-round QBs are more likely to fail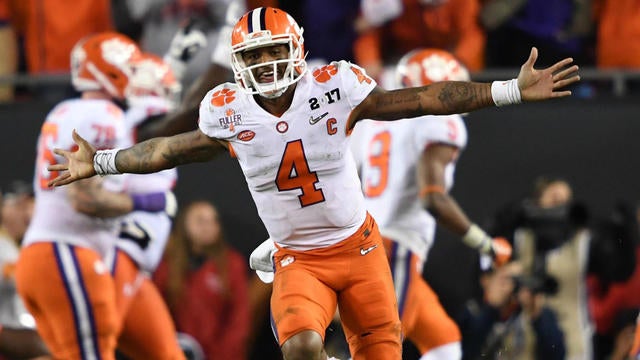 How many QBs will go in the first round?  Those who do not learn from history are doomed to repeat it.
NFL executives making decisions about first-round draft choices should heed this warning particularly when there isn't a strong group of quarterbacks available like this year.
The search for the ever elusive franchise quarterback drives NFL teams to select passers higher than they should. Sustaining success in the NFL is hard enough, but infinitely more difficult without good quarterback play.
The 2017 quarterback class doesn't have any players on par with those in the 2015 and 2016 drafts when passers were taken with the first- and second-overall picks. Despite this, it's conceivable that four quarterbacks will be selected in the first round for the first time since 2012.
North Carolina's Mitchell Trubisky, Clemson's Deshaun Watson, Texas Tech's Patrick Mahones, California's Davis Webb and Notre Dame's DeShone Kizer are considered as potential first-round picks by a majority of draft prognosticators. Trubisky is rumored to be a candidate to be taken first overall by the Browns even though he only started one season in college and Texas A&M defensive end Myles Garrett is a safer bet. Other first-round spots where quarterbacks could be a possibility are sixth (Jets), 10th (Bills) 12th (Browns-if Trubisky isn't first), 13th (Cardinals), 25th (Texans), 27th (Chiefs) and 32nd (Saints). Watson is generally considered as the next best prospect after Trubisky.
The first round of the 2004 NFL Draft is modern day gold standard for finding long term solutions at quarterback. Eli Manning, Philip Rivers, Ben Roethlisberger and J.P. Losman were selected first, fourth, 11th and 22nd. The first three have spent their entire NFL careers with the same team. Manning, a four-time Pro Bowler, has won two Super Bowls with the Giants in six playoff appearances. He was named MVP of both Super Bowl victories. Rivers, who has earned six Pro Bowl berths, has gotten the Chargers to the playoffs five times in 13 seasons. The Steelers have won two Super Bowls in three appearances with Roethlisberger under center. The five-time Pro Bowler has been to playoffs nine times as a Steeler. Losman had an eight-year NFL career where he started 33 games with the Bills, who drafted him. His biggest professional football achievement was leading the Las Vegas Locomotives to a championship in the now defunct United Football League's…
Ben Roethlisberger
Davis Webb
Deshaun Watson
First-person shooter
Myles Garrett
National Football League
National Football League draft
Quarterback
sports
super bowl