2018 NFL Mock Draft: Champion Eagles draft sleeper OT; Jets, Giants get their QBs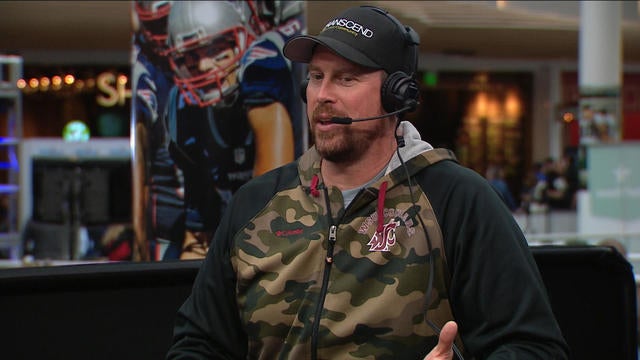 Tiki and Tierney: Ryan Leaf talks Baker Mayfield and Josh Rosen
As we all saw in the Super Bowl, the Eagles control the line of scrimmage on both sides of the ball. Adding Chukwuma Okorafor late in Round 1 would bolster their elite offensive line.
Western Michigan's Okorafor is the dark horse first-round offensive tackle prospect in the 2018 draft class.
He has NFL size, length, athleticism and plenty of collegiate experience. He dominated the MAC conference, was impressive against USC early in the season and held his own against an underrated Michigan State front the following week. With more strength, he could be an outstanding tackle in the pros for a long time.
Below is the current draft order, which is a coin-flip away from being 100 percent set.
Sam Darnold, QB, USC. Yes, Darnold has a technical flaw to work through regarding his delivery. But based on what he was capable of with that flaw in college, his overall talent, and apparent passion for football make him too enticing to not be picked by the Browns.
Josh Rosen, QB, UCLA. Just a guess here — Rosen wants to play for the Giants. With New York City media. With routine Sunday Night Football games against the Cowboys. He's eerily similar to Eli Manning when the veteran entered the NFL, so Rosen could learn a lot from him.
Bradley Chubb, DE, NC State. The Colts need wide-ranging improvements on defense, particularly up front. Chubb is a three-down game-changer who'll instantly help Indianapolis fluster the likes of Deshaun Watson and Marcus Mariota in the division.
Joshua Jackson, CB, Iowa. The surprise of the top 10. In this scenario, with Jackson, GM John Dorsey sees a lot of Marcus Peters, the star cornerback he picked in Kansas City in 2015. Jackson is an perimeter cover man with size, length, athleticism, and the ball skills to create big plays on defense for Cleveland.
Minkah Fitzpatrick, DB, Alabama. Where does Fitzpatrick line up in the pros? In a game that's becoming more and more "positionless" the Alabama stud will acclimate quickly to the NFL level. If the Broncos cut Aqib Talib, it saves the team $11 million off the 2018 cap. Fitzpatrick may be viewed as a safety by many, but he undoubtedly has the skills to thrive in a predominantly off-man role.
Baker Mayfield, QB, Oklahoma. I expect the Jets to be in on the Kirk Cousins sweepstakes yet, like seemingly everyone else, at this point, I think he'll sign in Denver. Mayfield was less improvisational in 2017 than he was in his first two seasons with the Sooners and has the personality that'll resonate with the fan base in New York City.
Derwin James, S, Florida State. The Buccaneers would've jumped all over Chubb had he fallen to No. 7. They're ecstatic with James in this situation though. Similar to Fitzpatrick, James can play any position in the secondary, and he'll make his mark often as a linebacker against spread formations.
Calvin Ridley, WR, Alabama. The stars seem to be aligning — yes, in February — for this seemingly ideal match to come to fruition on draft night. The Bears must be aggressive in building around Mitchell Trubisky, so they nab the first non-quarterback on the offensive side of…
Bradley Chubb
Champion
Draft (hull)
Eli Manning
Kirk Cousins
National Football League
New York Jets
Overtime (ice hockey)
Quarterback
Sam Darnold