The Daily Show Lives On (on The Late Show With Stephen Colbert)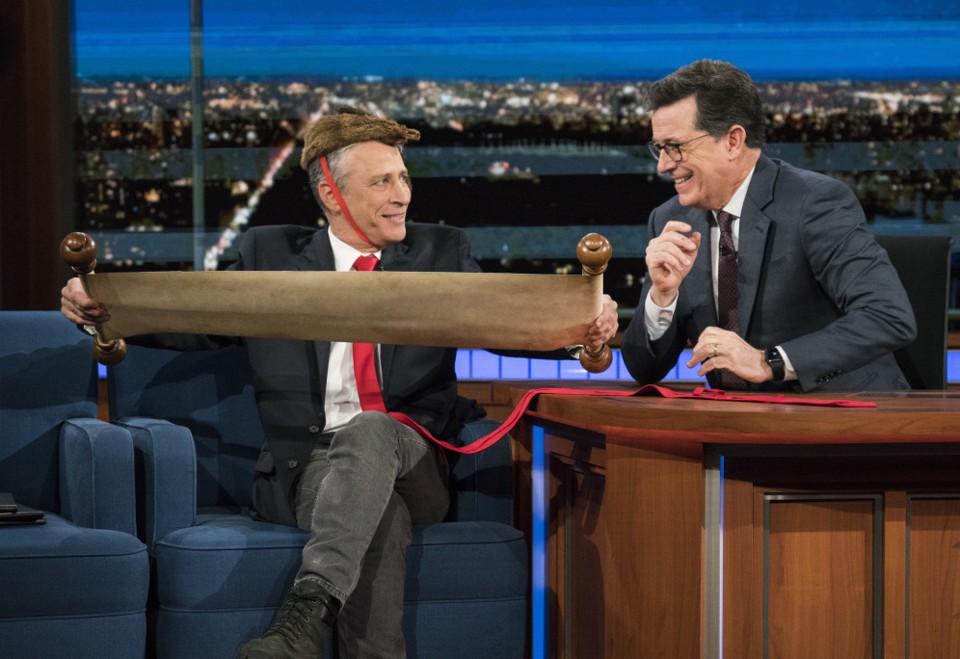 On Tuesday, just after President Donald Trump announced that Judge Neil Gorsuch would be his nominee to replace Antonin Scalia on the Supreme Court, Jon Stewart made an appearance on The Late Show With Stephen Colbert. The segment was, all in all, just like old times. Stewart emerged, at the desk of his old colleague from The Daily Show, wearing a faux animal pelt perched awkwardly on his head; he sported a clip-on red tie of comic length. ("I thought this is how men dress now," Stewart explained of the accessory.) Stewart proceeded to procure a leather-bound folder from behind Colbert's desk, announcing that he had, exclusively, discovered the new president's next round of executive orders.
Stewart proceeded to read the order to Colbert's cheering audience, with clownish melodrama. (Number one: The United States will import our border wall with Mexico from China. Number three: "Every instinct and fiber of my pathological self-regard calls me to abuse of power. I want—no, deserve—not just your respect, but your adoration.") In the process, Stewart made jokes about the president's pronunciation of "China." He took every opportunity to declare, with Trumpian bravado, "It's the best."
The appearance was zany. It was slapstick. It was vaguely juvenile. And it had, underneath it all, an earnest and urgent message to share.
Which is to say that it was the stuff of the old, Stewart-hosted Daily Show—on, as it happens, CBS. As The Daily Show itself becomes just a little more subtle, and a little less wacky, in its comedy, it's been Colbert, often, who has kept the DNA of the Stewart-hosted version of the show alive … on late-night network TV. As the Republican presidential primary was, last year, in full swing, Colbert mocked its bustling field of candidates with a vaguely Vaudevillian take on The Hunger Games: the "Hungry for Power Games." Riffing on that classic Samantha Bee sketch for The Daily Show, Colbert mocked 2016's undecided voters with the help of a MAGA-cap-wearing Rob Lowe. Colbert referred to Rudy Giuliani, after the former New York mayor accused Hillary Clinton of having an undisclosed illness, as "a man with his head up his own ass."
Impudence, imprudence, lols: On his show, Colbert has, often, been doing the stuff of basic cable, but on a network. But what's most Daily Show-esque about the Late Show in the series's latest incarnation—whether it features Colbert riffing or Stewart guesting or a slapstick political segment—isn't necessarily the assorted antics of the people onstage. It's their audiences. One of the Daily Showiest things about the old Daily Show was the sense of community it fostered:…
Antonin Scalia
Donald Trump
Entertainment
Jon Stewart
Neil Gorsuch
Ronald Reagan
Stephen Colbert
The Daily Show