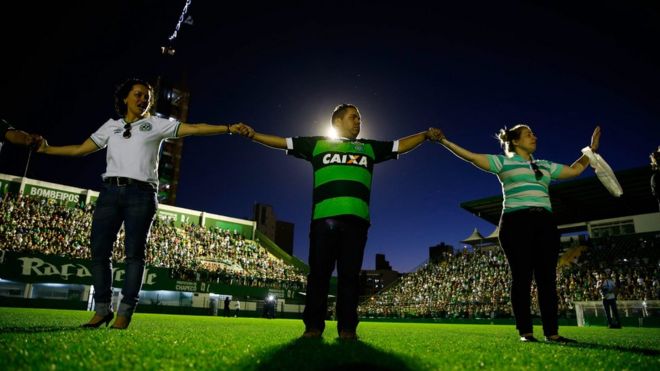 Thousands of people in Chapeco in Brazil have held a vigil for the victims of a plane crash, who included most of the city's football team.
Fans of the Chapecoense team walked from the town centre to the stadium where they prayed and sang. A service was also held in the city's cathedral.
The team was flying to Colombia for the biggest match in their history when their plane went down shortly before landing in Medellin, late on Monday.
Six of the 77 people on board survived.
It is not clear what brought down the chartered aircraft, but some unconfirmed reports have suggested there was an electrical fault, while others say the plane was low on fuel. Both flight recorders have been recovered.
Brazil has begun three days of official mourning, while minute silences have been held at football grounds around the world.
'It's really tough'
Some 10,000 people – including family members of the players – gathered in Chapeco's Arena Conda stadium on Tuesday evening, still stunned by the news from earlier in the day.
Fans wearing the club's green and white colours sang the names of the players and shouted "champions". Families of the players hugged each other on the pitch.
"It is really hard to speak. We always come to the games. We'd come to the stadium and sit right in the same spot," said fan Daniel Marline.
"And we came here today, we sat here, but we know that this weekend, next week, our fighting team won't be here anymore in this stadium….
Associação Chapecoense de Futebol
Association football
Brazil
sports
Stadium
Vigil
Comments