Scarlett Johansson Makes First Red Carpet Appearance Since Split From Romain Dauriac as amfAR Honoree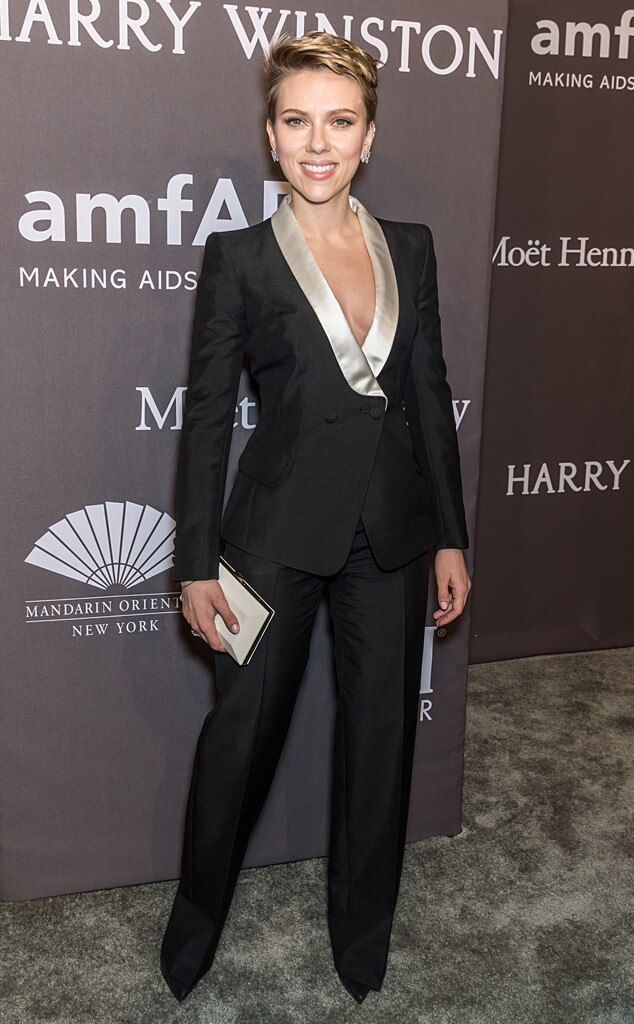 While the room may have been filled with celebrities, Scarlett Johansson was the star of the night.
As one of amfAR's two Award of Courage recipients, the actress stepped out with a smile at Cipriani's in New York City Wednesday evening—her first red carpet appearance since news of her secret split from husband Romain Dauriac was confirmed.
Despite the personal news, the actress looked radiant and chic in a black double-breasted suit jacket with a white collar over a pair of matching black trousers while her pixie cut kept the entire look all the more cool. The star's ensemble certainly stood out in a sea of designer gowns filling the audience. As a source told E! News, Johansson seemed to be in great spirits and really pleased to be in attendance at the annual gala. "I never saw her without a smile," the source said.
Her Avengers co-star Mark Ruffalo took the podium to present the award to his dear friend, calling her "no armchair humanitarian" as he applauded her for her efforts in Kenya, India and Sri Lanka working to better education and fight against disease and…
AmfAR
Double-breasted
Entertainment
Red carpet
Scarlett Johansson
Suit (clothing)
The Foundation for AIDS Research
Trousers