On The Tonight Show, Michelle Obama Cements a Legacy of Empathy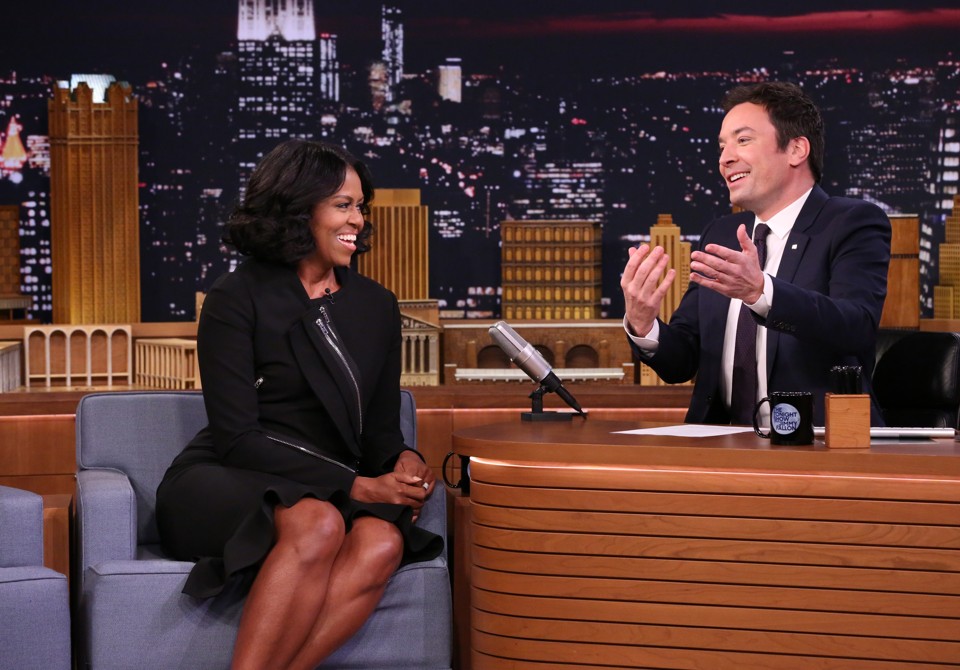 In late November of 1963, the journalist Teddy White traveled to Hyannis Port, Massachusetts, to meet with a young woman who had just been made a widow. White made the trip to profile Jackie Kennedy, to tell her story of resilience and mourning to a nation in need of hope; what soon became clear, however, was that the woman in question had other ideas about the story White would write. The piece he would publish in Life magazine would be about Jackie—that's what the public wanted—but it would be more essentially, she insisted, about her husband and his legacy. White complied. He wrote the rough draft of that story; Jackie herself edited it into its role as a rough draft of history. The piece about Jackie ultimately ran under the title "For President Kennedy: An Epilogue," and it established the myth—Jackie saw to it—that her husband would be remembered not just as a fallen hero, but also as, for too brief a time, the leader of Camelot.
Michelle Obama, Jackie's heir as first lady, is similarly engaged in purposeful myth-making as her tenure in the role draws to a close. And she is similarly savvy about the ways the American media can assist in that effort. Obama's farewell notably differs from her predecessor's—not just in the circumstances of her departure, but in, perhaps more significantly, the aim of their legacy-building: The legacy she is building is hers. Obama, in her recent media appearances—in a soaring speech, in a fantastic interview with Oprah—hasn't merely been burnishing her husband's place in history. She has been establishing her own.
On Wednesday Obama appeared, for her final time as first lady, on The Tonight Show—the program's only guest for the evening save for Stevie Wonder, who had been invited on to serenade her with a modified "My Michelle, Amour." The hour—which included, among other segments, a standard at-desk interview, a game of Catchphrase, and a set piece that found Obama and Fallon…
Barack Obama
Entertainment
Hyannis Port
Jacqueline Kennedy Onassis
Massachusetts
Michelle Obama