Novak Djokovic Sits with Ball Boy During Rain Delay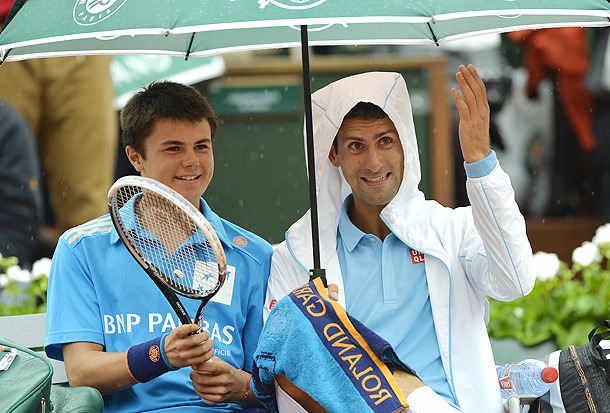 During the second set of Novak Djokovic's (
PeekYou profile here
) first-round match at the
French Open
against Joao Sousa, there was a rain delay. In a fun bit of theater, and presumably for the heck of it, Djokovic asked the ball boy holding his umbrella to come join him on the bench, and in being shielded from the downpour.
At the time the rain started, Djokovic was leading 6-1, 5-2.
After letting the awestruck and highly amused boy hold his racket for a bit, he then offered him a bottle of Perrier and grabbed a sports drink for himself. From there, the two clinked bottles.
Obviously, traditionally, ball boys are meant to be discreet and deferential to the players; even more so at a super high profile, Grand Slam tournament such as the French Open. So, this made for a memorable moment
Djokovic won the match 6-1, 6-2, 6-4, and will play Jeremy Chardy in the second round.
Check out the clip below, check out Djokovic's PeekYou profile for mountains of cyber-goodies, and find out where he ranks among the Web's other most prominent tennis players by going here,
French Open
Novak Djokovic
sports
Tennis