NFL Lets Rob Gronkowski and Patriots Off Easy with 1-Game Suspension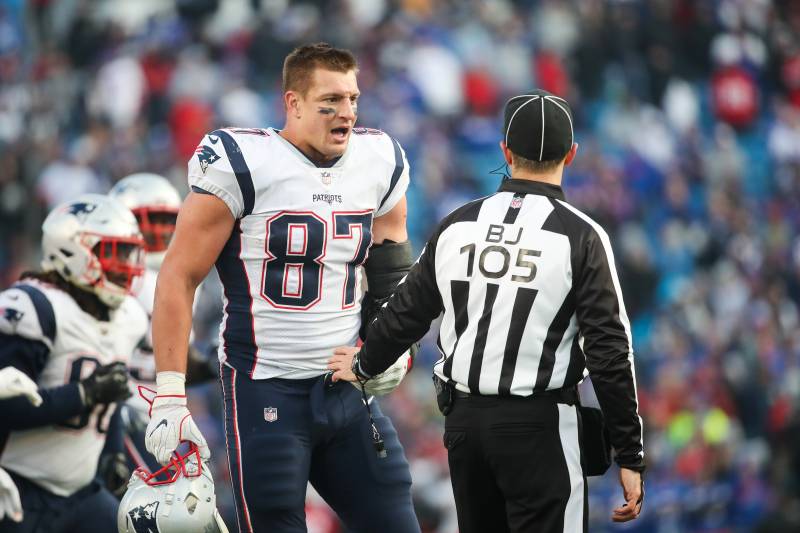 The one-game suspension the NFL handed to New England Patriots tight end Rob Gronkowski on Monday for his juvenile, dangerous shoulder to the head of an unsuspecting, defenseless opponent was shamefully insufficient by 2017 standards.
How so? Let's start with what we know about those types of blows.
Chronic traumatic encephalopathy, a neurodegenerative disease discovered only relatively recently in athletes and thought to be caused by repeated blows to the head, may have negatively affected the lives of dozens of professional football players.
In a study published this year in the Journal of the American Medical Association, CTE was diagnosed in 87 percent of 202 deceased former football players. There's a link between the head trauma that occurs in football and CTE, and—per the Mayo Clinic—there are links between CTE and memory loss, substance abuse, irritability, motor impairment, dementia, depression and suicidal thoughts or behavior.
Not even the NFL denies the link between football and CTE at this point, which is why concussions are undoubtedly the biggest threat to the league and its players.
That also explains why the league continues to introduce changes to rules and regulations, aiming to protect the brains of the men who risk their well-being every Sunday.
On Sunday, 1,288 NFL players took the field, knowing the inherently violent nature of the sport they play puts them at risk of suffering head injuries. When large men collide with other large men, concussions are inevitable. The league and its players are responsible for limiting those incidents by abiding by rules designed to protect those who are defenseless.
Inevitably, those rules are violated. Players, traveling at hyper speed, sometimes miss their marks or overcommit on tackles.
That's one thing, and it should and often does result in discipline. But what Gronkowski did was another thing.
The league's most lovable party animal might not be worried about his own brain—he essentially likened concussions to hangovers in a 2015 interview with Jim Rome of CBS Sports—but that doesn't give him the right to viciously target another man's head.
That's what Gronkowski did Sunday in Buffalo when, after a play was over, he took six steps in a two-second span and slammed Tre'Davious White's head with the full force of his body.
Gronkowski weighs 265 pounds. The Buffalo Bills rookie cornerback weighs 192. Lying out of bounds, White had no reason to expect such a hit was coming. His head absorbed two shocking blows in a split-second—first when Gronkowski's hulking shoulder struck him from…
Monday
Rob Gronkowski