LSU vs. Texas A&M: Score and Twitter Reaction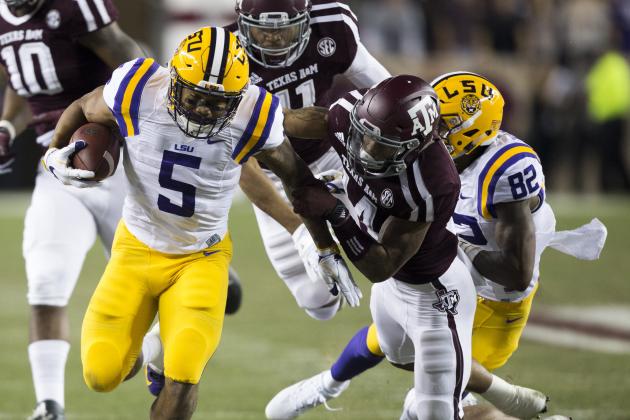 No Leonard Fournette, no problem. Behind the rushing attack of Derrius Guice and the arm of Danny Etling, LSU thumped Texas A&M, 54-39, Thursday night at Kyle Field.
Guice set an LSU single-game rushing record with 285 yards while scoring four touchdowns on the ground, as ESPN CollegeFootball noted:
Derrius Guice just passed Leonard Fournette to set the record for most rush yards in a single game in LSU history with 285 yards. pic.twitter.com/NGYnO9pUA7

— ESPN CollegeFootball (@ESPNCFB) November 25, 2016
Etling added 324 yards through the air with two touchdowns as the two made history, per ESPN Stats & Info:
This is the first time in LSU history that the Tigers have had a 300-yard passer and 200-yard rusher in the same game.

— ESPN Stats & Info (@ESPNStatsInfo) November 25, 2016
Without its star running back, Fournette—who didn't travel with the team due to an ankle injury—LSU entered the game with an uphill battle on the road.
But Guice was quick to show he could carry the backfield, rumbling through the Texas A&M defense for a 45-yard touchdown on the Tigers' first drive.
It was a perfect jolt for Yahoo Sports' Dr. Saturday after a Thanksgiving feast:
That didn't take long for LSU… Derrius Guice with a 45-yard TD run.

WAKE UP FROM YOUR FOOD COMA AND WATCH FOOTBALL

— Dr. Saturday (@YahooDrSaturday) November 25, 2016
ESPN's Carley McCord was buying the early hype:
— Carley McCord (@CarleyMcCord) November 25, 2016
He had been doing this all season, though, as Billy Embody of Scout.com broke down how valuable he's been:
Derrius Guice is now the 12th player in #LSU history to rush for 1,000 yards in a season.

Does so averaging nearly 8.4 yards per carry.

— Billy Embody (@BillyEmbody) November 25, 2016
Texas A&M answered through the air with 6:05 left in the first when quarterback Trevor Knight hit Christian Kirk with a 36-yard touchdown to help tie things up.
Battling a shoulder injury, Knight looked fine to CBSSports.com's Brad Crawford:
One of the best throws I've seen in the SEC this season right there from Trevor Knight. Dropped it in there to Christian Kirk.

— Brad Crawford (@BCrawford247) November 25, 2016
Knight threw for three touchdowns along with 211 yards before injuring his knee in the fourth quarter and leaving the game. Jake Hubenak attempted seven passes in Knight's absence, completing three for 73 yards.
That touchdown to Kirk was all the success the Aggies would see in the first half, though, as LSU dominated the second quarter.
After a pair of Colby Delahoussaye field goals put the Tigers up 13-7, LSU linebacker Devin White stripped Trayveon Williams at A&M's 20-yard line to give the Tigers a short field with 43 seconds left.
Just 11 seconds later, Etling hit Malachi Dupre to help put LSU up 20-7 at the half. Just like…
Ed Orgeron
Forward pass
Leonard Fournette
LSU Tigers football
Rush (gridiron football)
sports
Texas A&M Aggies football
Touchdown