Filmmaker Says This New Video Of Mike Brown Challenges Ferguson Police Narrative
A documentary filmmaker has obtained previously unreleased surveillance footage that he said disproves the police narrative of the events that led to the death of Michael Brown, the 18-year-old shot to death by a Ferguson, Missouri police officer in 2014.
Film director Jason Pollock debuted "Stranger Fruit," a documentary that examines Brown's story from his family's perspective, at the South By Southwest Festival in Austin on Saturday. The film includes footage that Pollock said was suppressed by police ― a move that consequently fueled the characterization of Brown as a "thug."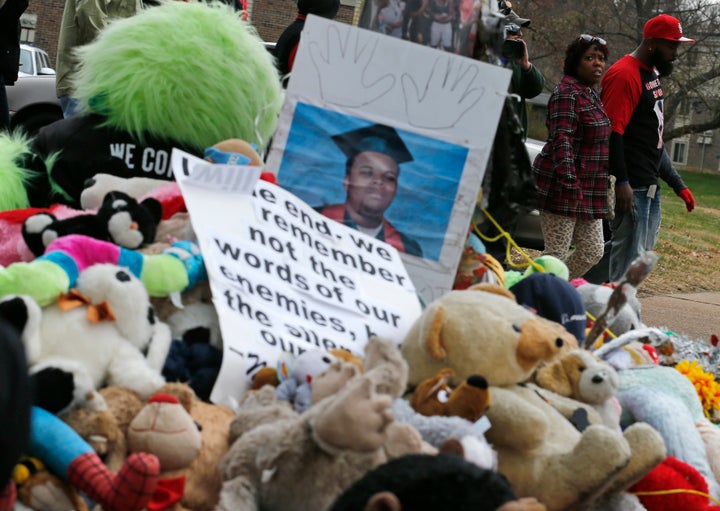 Pollock's video shows Brown trade what he says is marijuana for cigarillos with clerks at the Ferguson Market convenience store in the early morning hours before he was killed.
The video Pollock obtained, which was edited for the documentary, challenges the narrative police had long maintained: That Brown committed a strong-arm robbery of the store before the shooting and as a result, Ferguson officer Darren Wilson encountered Brown believing he was the robbery suspect.
The video specifically shows Brown giving the clerks a small bag, which they smell and inspect. Then, a clerk bags cigarillos and other items for Brown, but instead of leaving the store with the bag, Brown is seen handing the bag back to the clerk, who places it under the counter.
The widely-seen second video, of the moments before the shooting, is Brown returning to collect his items, Pollock said.
Lesley McSpadden, Brown's mother, said in the film the allegations of a strong-arm robbery…
Entertainment
Shooting of Michael Brown
South By Southwest