England Beat Colombia on Penalties, Advance to World Cup Quarter-Finals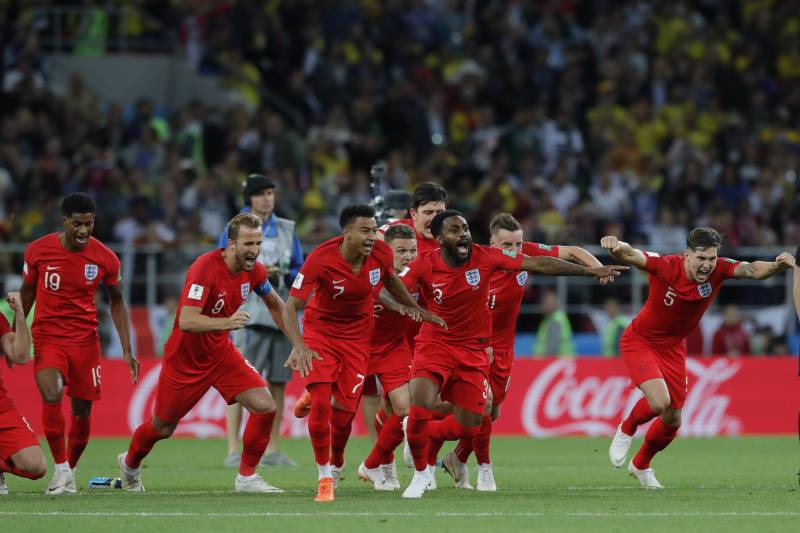 England qualified for the quarter-finals of the 2018 FIFA World Cup on Tuesday with a win over Colombia, needing penalties to advance. Harry Kane and Yerry Mina scored in regulation, leading to a 1-1 final score, and England won 4-3 in the shootout.
The result means the Three Lions will face Sweden on Saturday, as they continue their quest for a first title since 1966.
Here are the key takeaways from the final match of the round of 16.
New-Look England Show It's a New Era by Overcoming Penalty Trauma
England's young squad showed its inexperience by folding like a deck chair in the final minutes of regulation against Colombia and were completely overrun in the first period of extra time. They also showed a different side to this new squad, however—the mental fortitude to win a penalty shootout.
Before Tuesday, the Three Lions had the worst record in shootouts in World Cup history. In three attempts, the team had never advanced.
It's no wonder people were ecstatic after the win:
roger bennett

WHAT IS THIS EMOTION THAT I AM FEELING? ENGLAND JUST WON A PENALTY SHOOT OUT. I NEVER THOUGHT I WOULD LIVE TO SEE THIS DAY. EVERYTHING IN LIFE FEELS SUDDENLY POSSIBLE. GOD BLESS YOU JORDAN PICKFORD. GOD BLESS YOU ERIC DIER. GOD BLESS YOU FOOTBALL
It's too early to suggest this historical event will lead to World Cup success, as the team showed many serious issues we'll get to in a bit. But there's reason for optimism as well, as this bunch of talented players has already impressed in Russia. Even if this isn't the year—and it still might be—the future is very bright for England.
Kane's Goal Saves England from Succumbing to Chaos
Tuesday's match wasn't a showcase of technical ability, but it brought plenty of excitement for other reasons. Both teams started to lose their composure late in the first half, and Colombia, in particular, continued after the break, with a ton of dirty fouls and bookings to follow.
England's penalty was a logical consequence, but there was far more drama….
Colombia
Croatia
Penalty shoot-out (association football)
United Kingdom
Yerry Mina