Corey Seager injury: Manny Machado a potential option for Dodgers, but the luxury tax is an obstacle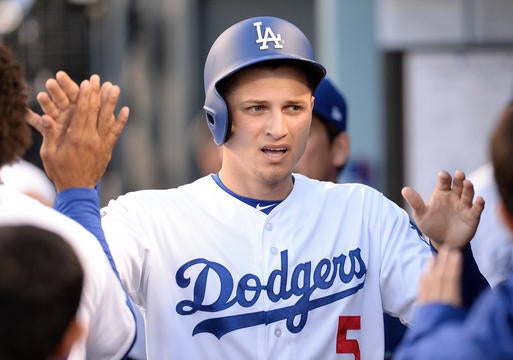 Dodgers plan for replacing Corey Seager
On Monday afternoon, the defending National League champion Los Angeles Dodgers were dealt a devastating blow. Star shortstop Corey Seager needs Tommy John surgery and will miss the rest of the season. The team was already without Justin Turner (wrist) and Yasiel Puig (hip). Now they'll be without Seager.
For the time being the Dodgers are expected to use Chris Taylor at shortstop. He's a natural shortstop who was playing the outfield in deference to Seager. Other internal shortstop candidates include Enrique Hernandez and Breyvic Valera, neither of whom stands out as a potential everyday shortstop option for a contending team.
Needless to say, Dodgers president of baseball operations Andrew Friedman will begin scouring the trade market for a replacement shortstop pretty much immediately. The summer trading season is still a few weeks away, but the Dodgers can begin laying the groundwork for deals now. Expect them to act quickly.
Shortstop is not the easiest position to fill at midseason, though there are a few tantalizing options who are expected to hit the trade market this summer. Here are some potential shortstop options, starting with one of the best players in baseball:

Manny Machado BAL • SS • 13
BA.259
R81
HR33
RBI95
SB9
The Baltimore Orioles are off to a terrible start — they are 8-20 with a minus-54 run differential coming into Monday — and the conversation is beginning to shift from "will they trade Machado?" to "when will they trade Machado?" Manny Machado is one of the best players in baseball and an impending free agent. He'll command a significant prospect package at the deadline.
There is an obstacle standing in the way of a potential Machado trade, however: The luxury tax. The Dodgers have made it clear they intend to get under the $197 million luxury tax threshold this summer, and Machado is making a healthy $16 million. According to Cot's Baseball Contracts, the Dodgers have $181.5 million in luxury tax payroll at the moment.
The good news is luxury tax "hits" for midseason additions are pro-rated, so if the Dodgers were to acquire Machado at the midpoint of the season, his $16 million salary would become an $8 million charge against the luxury tax. The math rarely works out that neatly, but you catch my drift. The Dodgers appear to have room to take on Machado, and they pursued him as recently as this past offseason.
The bad news is the Dodgers will need that available payroll space to address other needs as well, specifically pitching. Also, every call-up and roster addition counts against the luxury tax payroll, so the team needs to leave some breathing room for the rest of the season. They can't bump up against $197 million right now. It has to wait for the end of the season.
On paper, Machado is a perfect fit for the Dodgers. He's a quality defender and an impact hitter who will not just replace what the Dodgers lost with Seager's injury, but he might even be an upgrade. Machado is that good. The Dodgers have…
Corey Seager
Injury
Justin Turner
Los Angeles Dodgers
Luxury tax
Manny Machado
Monday
Obstacle
Potential
Yasiel Puig