Combine Notebook: Safeties Steal the Show as Workouts Wrap Up in Indy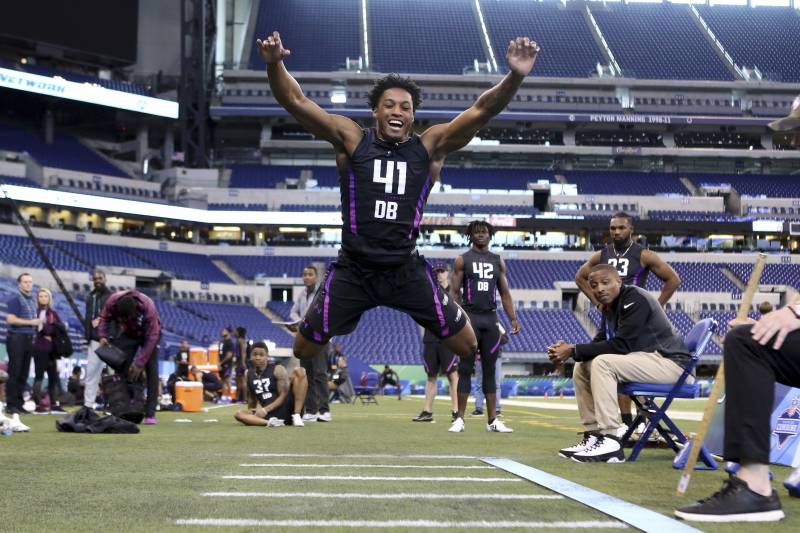 Defensive backs took the field Monday at the NFL combine in Indianapolis. The largest group in the event's history provided a mixed bag of results, with outstanding 40-yard-dash times and inconsistent workouts.
The headliners—Ohio State's Denzel Ward, Alabama's Minkah Fitzpatrick and Florida State's Derwin James—lived up to expectations. Beyond them, a peculiar flip-flop occurred between the cornerbacks and safeties.
Heading into the combine, it appeared as though this year's draft class had better depth and quality at cornerback than safety. However, the 43 corners invited to Indianapolis underwhelmed, whereas the safeties blew scouts away with impressive 40-yard-dash times and better all-around workouts than the cornerbacks.
Today's Combine Notebook looks at the evolution of defensive backs and their impressive speed numbers, even though no one came close to breaking John Ross' record.
Minkah Fitzpatrick Doesn't Have a Position, Doesn't Matter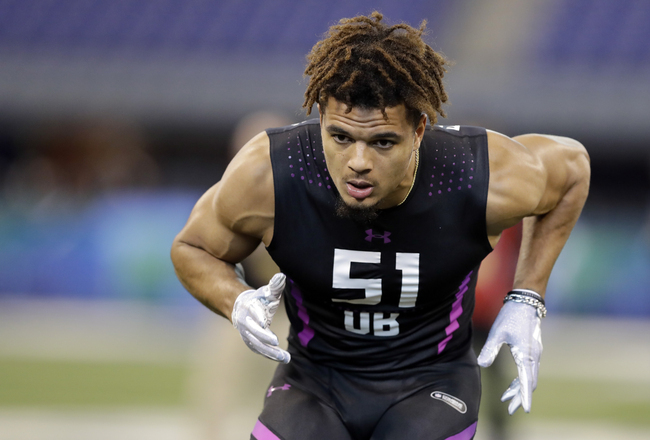 Alabama's Minkah Fitzpatrick is a top-five talent, and nothing he did at the NFL combine changed that. In many ways, his performance confirmed what everyone wanted to see after his impressive junior season.
What it didn't do was define his position at the next level. That's OK, because it doesn't matter.
Fitzpatrick is a hybrid playmaker built for the modern game. The 21-year-old defensive back captured the Chuck Bednarik Award as college football's best defensive player, and the Jim Thorpe Award as the nation's best defensive back. His value to an NFL team originates from system flexibility and outstanding leadership.
"Preparation. Notetaker in every meeting. Wants to be great at everything he does. Can cover, tackle, ball skills, pass rush. The total package," an Alabama coach told Fox Sports' Bruce Feldman. Alabama head coach Nick Saban referred to Fitzpatrick as one of his "favorite guys," per SI.com's Stephanie Apstein.
Fitzpatrick's attitude and work ethic make him a culture-changer. However, the conversation will continue about how NFL teams can best use him.
His combine performance may further complicate things since he ran well, posting a 4.47-second 40-yard dash. Meanwhile, his length, fluidity and explosiveness can be questioned to varying degrees.
This is the give-and-take teams must weigh with Fitzpatrick. He isn't a safety or a cornerback; he's both. He can even be a nickel linebacker, too, if a team needs him to fill that role.
His combine performance showed he's a well-rounded athlete who isn't deficient in any particular area. He can step onto an NFL field and do almost everything. While slot corner may be his "optimal position," he's fast enough to play outside occasionally. He'll almost assuredly line up as both a free and strong safety at times, too.
Today's game is about matchups. A 6'1″, 201-pound defensive back with the ability to play both inside and outside corner, single-high and box safety, defend the run and blitz the quarterback is the complete package, even if no one knows how to define his position.
John Ross' 40-Yard-Dash Record Doesn't Fall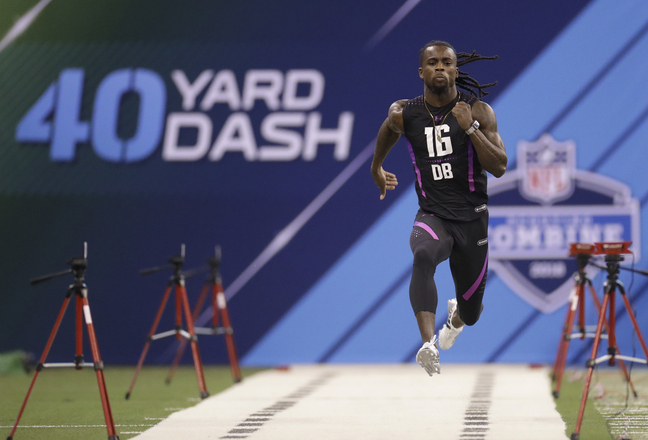 The fastest players in this year's class all took the field Monday. Sorry, Shaquem Griffin.
On Sunday, LSU cornerback Donte Jackson boasted he would break John Ross' 4.22-second 40-yard dash record set last year, per NFL.com's Chase Goodbread. He fell 0.1 seconds short of doing so, but his 4.32-second time still left him tied for first overall.
Jackson cramped during the run and couldn't replicate his speed during a second attempt. Injuries played a factor for each of the top speed demons.
Ohio State's Denzel Ward and Tulane's Parry Nickerson also ran the 40 in 4.32 seconds. Only seven defensive backs ran faster times since the NFL began to track times in 2006.
Unlike Jackson, Ward and Nickerson weren't able to participate in position drills since they suffered ankle and hamstring injuries, respectively. But they turned heads with their speed and didn't need to complete the entire workout.
The raw speed displayed Monday helps place Ross' performance in perspective. Each of the fastest prospects in this year's class was a full tenth of…
Defensive back
Donte Jackson
Indianapolis
Minkah Fitzpatrick
Nick Saban
Notebook
Safety (gridiron football position)