'Bright Lights' Director Says Carrie Fisher Was 'Surprised' by 'Really Intimate' Doc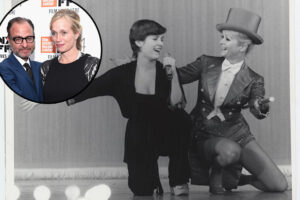 Fisher Stevens and Alexis Bloom spent about 18 months, on and off, with Carrie Fisher and her mother Debbie Reynolds for their HBO documentary "Bright Lights."
The last visit came in November, just a month before the two died a day apart in December, shocking and devastating Hollywood.
"I saw Carrie and Debbie on November 19th, when Carrie had her 60th birthday party," Stevens told TheWrap of the last time he saw the mother-daughter duo. "Debbie actually came up to Carrie's house and was doing pretty well, and seemed in good spirits. Carrie was in great spirits with all her friends. It wasn't very long ago."
'Bright Lights': Watch Trailer for Carrie Fisher, Debbie Reynolds Doc (Video)
"We spoke to Todd [Fisher, Carrie's brother and Debbie's son] after Carrie was hospitalized," Bloom added. "We could hear Debbie in the background and we could speak to Debbie. She wished us a Merry Christmas."
"Star Wars" actress Fisher died Dec. 27 at age 60, after she suffered cardiac arrest while flying from London to Los Angeles. Reynolds died the following day at age 84.
Perhaps more than anyone, Bloom and Fisher had a hard time grasping the extraordinary circumstances of Fisher's and Reynolds' deaths.
HBO Moves Up Release of Carrie Fisher, Debbie Reynolds Doc 'Bright Lights'
"Intellectually, one could understand why a mother would not want to bury her child, and would pass away relatively soon after a daughter. You can understand that; it's not an entirely surprising development intellectually," Bloom said. "But emotionally, it's flooring, and we were just shocked and devastated. We didn't see it coming at all. It feels like people we love just stepped out of a room…
Carrie Fisher
Debbie Reynolds
Entertainment
Fisher Stevens
Sequel