Big-game Buckeyes won't back down off playoff stage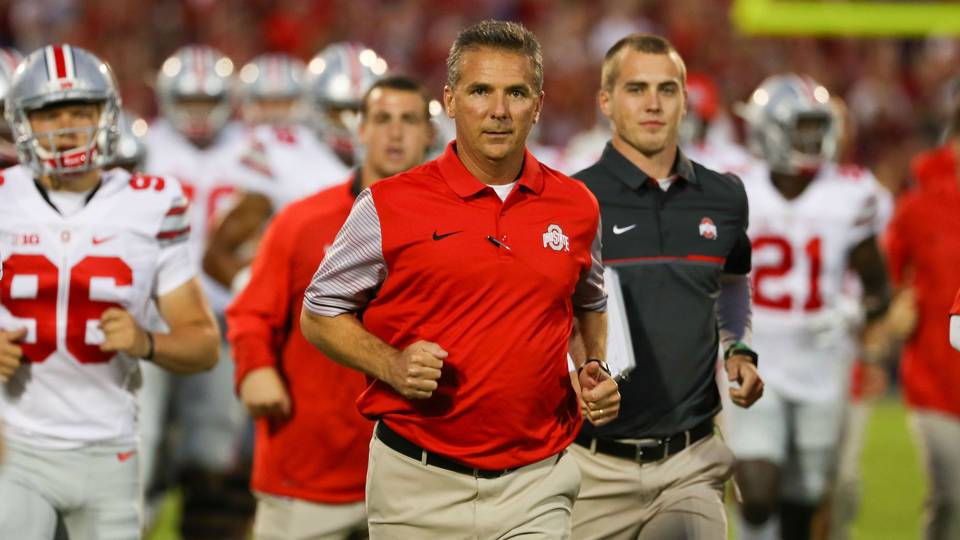 COLUMBUS, Ohio — Ohio State's Curtis Samuel insists nothing changed.
The Sporting News' first-team All-American sat at a table in the Woody Hayes Athletic Center on Dec. 15 fielding questions. He talked about the miraculous eight-yard reception where he reversed field to set up fourth-and-1. He recounted every detail of "29 lead," the 15-yard touchdown run in a 30-27 double-overtime victory against No. 3 Michigan that pushed the Buckeyes into the College Football Playoff.
Samuel will be compelled to talk about every detail of those two plays the rest of his life. He scored the game-winner in one of the greatest installments of The Game — a poster that will cover walls in taverns, basements and locker rooms all across Ohio.
MORE: Picks, prediction for all 41 bowl games
It might seem like a life-changing moment. He doesn't see it that way.
"I just care about the team," Samuel said. "I'm not the type of guy who likes too much social media and all the, 'Great job' and all that."
Samuel simply had a big moment in a big game. He glanced at his Nike gloves before recognizing the magnitude of that moment and what it meant for Ohio State.
"That was the biggest game of the year just because of the point we were at," Samuel said. "The winner was likely going to the playoffs. That's the reason that was such a big game — not just because it went into overtime because we went into overtime with Wisconsin — but just at that point of the season that was the biggest game."
Samuel's choice of Michigan as the biggest game shouldn't come as a surprise, but there were several other big games that shaped Ohio State's season and another one is coming at the PlayStation Fiesta Bowl against No. 2 Clemson on Dec. 31.
That's all part of the Buckeyes' big-game experience under Urban Meyer. Ohio State is 15-3 against Top 25 teams under Meyer since 2012, and Clemson handed the Buckeyes one of those losses in the 2014 Orange Bowl. Michigan State beat Ohio State in the 2013 Big Ten championship game and again in 2015, a game that kept the Buckeyes out of the College Football Playoff.
At Ohio State, big games come around all the time.
*****
Ohio State hasn't lost to a ranked opponent since that shocking loss to No. 12 Michigan State in Columbus in 2015. That helped send the Spartans to the College Football Playoff and put the Buckeyes in the Fiesta Bowl against No. 8 Notre Dame.
That's where some of the seeds for 2016 were planted. Linebacker Jerome Baker was a backup last season. He watched a loaded class that featured 12 NFL Draft picks, including first-round picks Joey Bosa, Ezekiel Elliott, Eli Apple, Taylor Decker and Darron Lee. Ohio State didn't mail it in. They beat the Fighting Irish 44-28. The Buckeyes finished 12-1.
"We didn't make it to the playoffs, but we were playing a very-tradition rich program," Baker said. "I took it as that. Playing Notre Dame; that's a lot of tradition in itself. This year it's the playoffs. You just have to put it in perspective. I was blessed to be around guys like Zeke, Braxton (Miller), Joey, and you saw from last year how much that really meant to them. You just wanted to continue that drive."
MORE: Should NFL-bound players skip bowl games?
Baker was one of 16 new starters for the Buckeyes that didn't know what to expect when they traveled to No. 15 Oklahoma on Sept. 17. He watched Samuel open the scoring with a 36-yard touchdown run on fourth-and-1. Baker then made his own play with a 68-yard interception return for a touchdown. He looked teammates on the sideline and said, "Wait. I just caught an interception. Pretty good."
He didn't need more affirmation. Quarterback J.T. Barrett threw four TD passes to Noah Brown — who suffered a season-ending leg injury before…
2014 Orange Bowl (January)
All-America
College Football Playoff
List of Big Ten Conference football champions
Ohio State Buckeyes football
playoffs
sports
Woody Hayes Athletic Center