2018 NBA playoffs have shown us the future, which no single player will define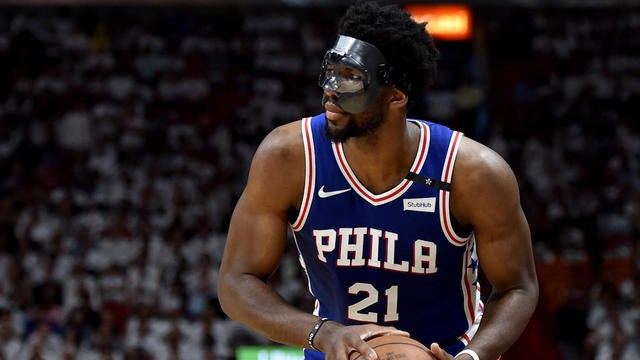 Joel Embiid confident 76ers core can compete right now
Back in October, the NBA's 2017-18 regular season was spoken of as a mere formality, a six-month prelude to a playoffs that would inevitably lead to the fourth straight NBA Finals pitting the Golden State Warriors against the Cleveland Cavaliers.
And we still may get that. Despite LeBron James and company's roller-coaster season and first-round struggles against the Indiana Pacers, and despite the fact that the Warriors don't look like quite the same team since Steph Curry's injury, it shouldn't surprise you in the least if it's June and the NBA universe is again focused on Golden State and Cleveland.
Yet, as this wild first round has reminded us, Warriors-Cavs Part IV is far from a foregone conclusion. The dynastic grip the two-time champ Warriors and their foil Cavaliers have had on the NBA the past few seasons feels much looser during this first round. As the Warriors' injury woes have reminded them that greatness can be fragile, and as the Cavaliers' struggling supporting cast has reminded LeBron that he can't do it all by himself, a group of other emerging NBA powers has risen up. If those powers don't compete for the title this season, they will soon enough.
And I'm not just talking about the Houston Rockets and their microwave offense that's statistically among the greatest of all time, or their James Harden/Chris Paul backcourt that could someday be remembered as the greatest backcourt duo of all time.
I'm talking about the NBA's youth movement that has been one of the great story lines of this season and the most fun story line of the first round of these playoffs.
I'm talking about Joel Embiid and Ben Simmons, turning the Philadelphia 76ers from league laughingstock a few years ago into legit title contender this season. I'm talking about Donovan Mitchell and Rudy Gobert, two draft-day…
2018 NBA playoffs
Cleveland Cavaliers
Future
Golden State Warriors
LeBron James
National Basketball Association
playoffs
Quin Snyder
Single-player video game
Stephen Curry