X
WATCH & READ
NBA Playoffs: Grizzlies win wild one against Spurs, even series 2-2
x
| | |
| --- | --- |
| player version | 2.2.0 |
| playback state | -1 |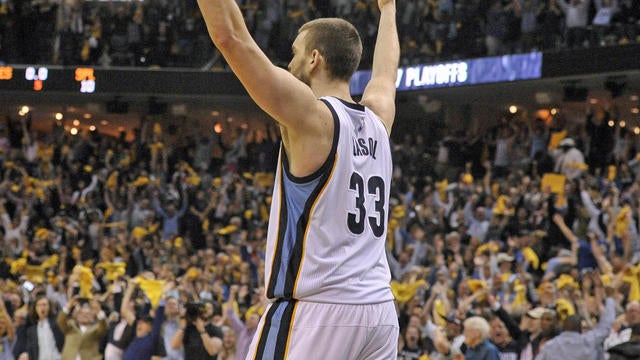 NBA Playoffs: Grizzlies win wild one against Spurs, even series 2-2 0:53
Start video Large play-pause toggle Share
Play pause 00:00 00:00 Closed captions Settings Volume ChromeCast Fullscreen
X Twitter Facebook
/
Small (320×180) Medium (480×270) Large (640×360)
Learn More
This video is not available.
This web site is not authorized to display this video.
x
This video is not available.
This video may have expired or is otherwise not available. Please try again in a few minutes.
x
This video is geo-restricted.
The content you are trying to view is not available in your country due to rights restrictions.
There was an error loading the video.
We are experiencing technical difficulties, please try again in a few minutes.
x
We noticed you have an ad blocker enabled.
Ads keep our content free for all to enjoy so please turn off any ad blockers to keep watching.
This video is not available on your platform.
This video is not available for this device or operating system.
x
For a brief moment Saturday, it looked like the Memphis Grizzlies might roll to a comfortable victory.
With 4½ minutes left in Game 4 of their first-round series against the San Antonio Spurs, they led 88-80 after a 3-pointer from Mike Conley, who had been making big plays all game. The Spurs were suffering from another off-night in Memphis, with LaMarcus Aldridge almost invisible offensively aside from a brief burst in the third quarter and Tony Parker carrying much of the load. Their best player, Kawhi Leonard, had 19 points on 6-of-18 shooting, and San Antonio was 4 for 21 from 3-point range.
At that point, Memphis might have felt a bit of relief. It had turned the ball over 17 times and was still in control. Zach Randolph had scored only 10 points on 3-of-11 shooting, but things were OK. Or, at least, they might have been OK against a different team.
"The Spurs don't ever let you breathe," Grizzlies coach David Fizdale said.
As soon as it seemed like Memphis might separate itself, Leonard got his enormous hands on a pass from Conley, which was intended for JaMychal Green. This started a fast break, which triggered some classic San Antonio ball movement, which resulted in Leonard hitting a 3-pointer. On the Spurs' next possession, Leonard drew a foul on the inside and hit two free throws. Then he poked the ball out of James Ennis' hands and went coast to coast for a layup, plus the foul. The next time San Antonio went down the floor, Leonard hit another 3 to give his team the lead.
It all happened in 85 seconds.
Leonard's personal 11-0 run put the Spurs in the driver's seat, but Memphis managed to keep it together….
David Fizdale
Jr.
LaMarcus Aldridge
Memphis Grizzlies
Mike Conley
NBA playoffs
San Antonio Spurs
sports
Three-point field goal
Tony Parker
Comments